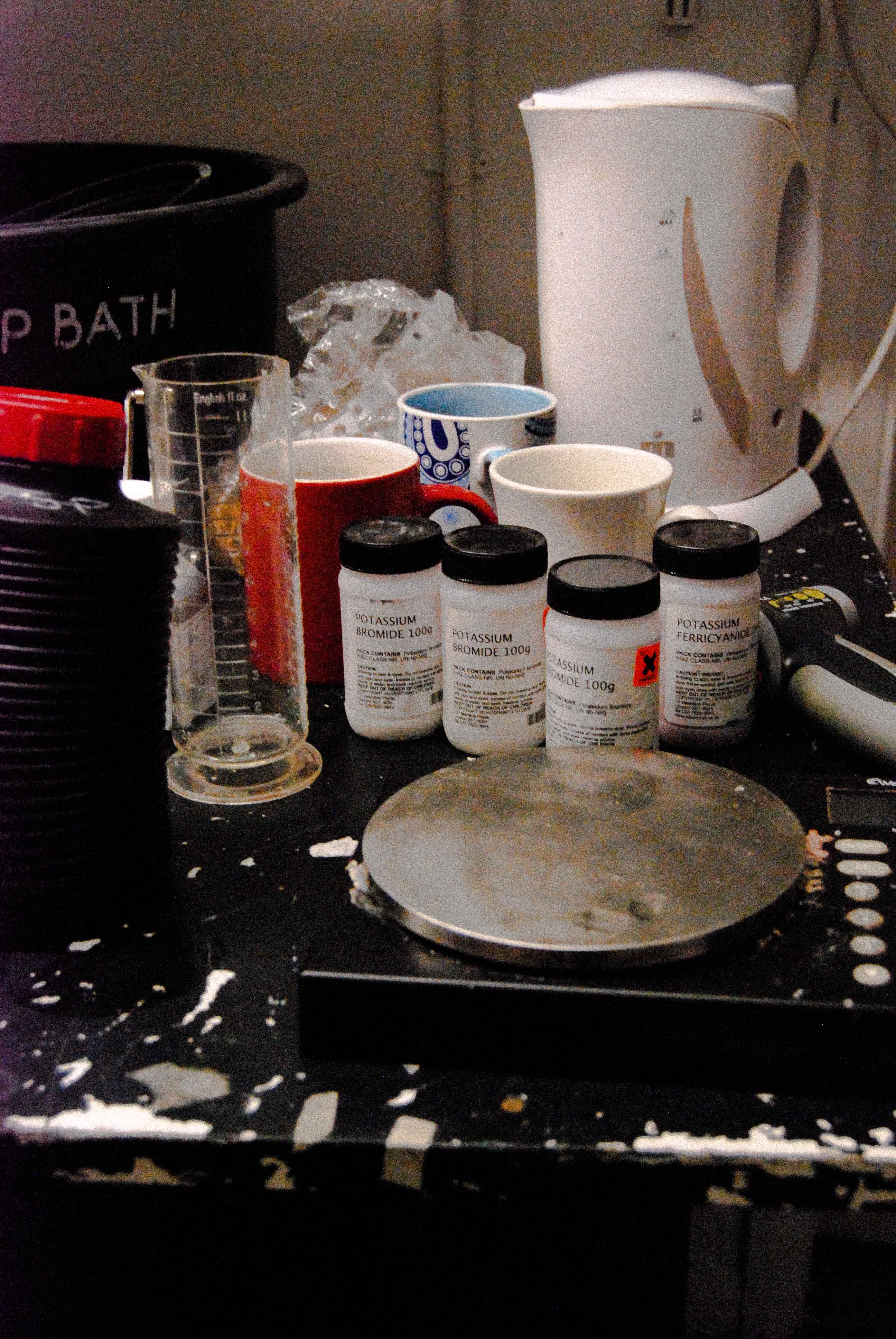 Frenkel Defect: An Introduction to Hand Processing Motion Picture Film – An Abstract:
"The diverse operations of developing, fixing and washing films can be carried out conveniently with the help of simple buckets with a capacity of about ten litres. The film is unwound very quickly and plunged in such a way that it unwinds in the developer. When all the film is unwound you move it, always very quickly, into the second bucket, taking care to let it pass between your fingers to make sure that the entire surface is well coated with a layer of developing fluid and to avoid any bubbles or incomplete development which might arise. It is therefore imperative that the immersion in the bucket and the movement from the first to the second bucket be carried out as quickly as possible."
– Cinematographe Manual
In this three day workshop, participants will learn about the history and theory of Motion Picture Film Processing, elementary procedures for negative and reversal processing and procedures for mixing and handling chemistry. Special topics, based on the groups own interest, will also be discussed on the third day.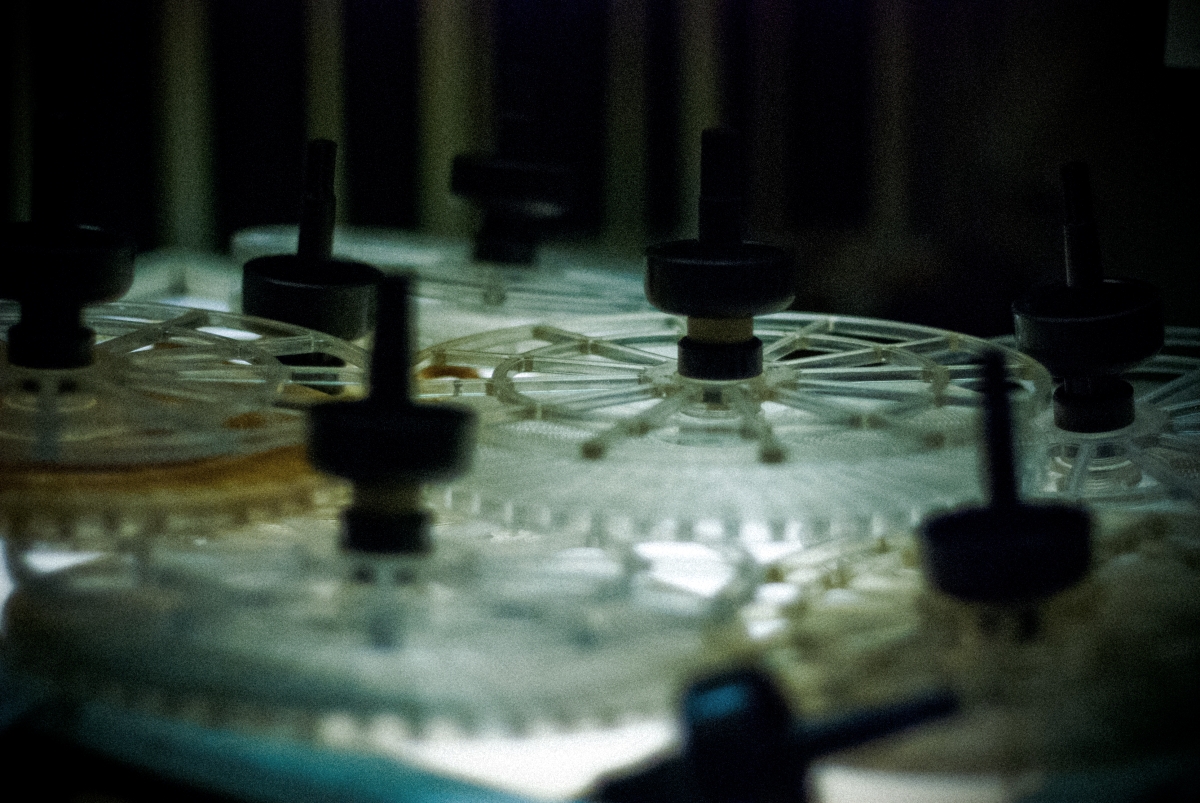 Attending the Workshop [Dates, Fees & Requirements]:
There will be a limited number of open spaces for this workshop. To register, please contact us here.
This workshop consist of three days over a three week period. The dates for these days are as follow:
A Preliminary Introduction (Free)

Sunday – July 21st, 2013: 12:00 PM – 2:00 PM (Norlin Library, University of Colorado, Boulder, CO.)

Elementary Black & White Processing [Negative + Reversal] (Cost TBD)

Sunday – July 28th, 2013: 12:00 PM – 6:00 PM (Location TBA, Boulder, CO.)

Chemistry, Mixology & Special Topics (Cost TBD)

Sunday – August 4th, 2013: 12:00 PM – 6:00 PM (Location TBA, Boulder, CO.)
There are no requirements for attendance other than that participants provide their own materials. A list of necessary materials will be provided on the first day.
Participants who would like to bring in their own film for processing may do so on the second day. No processing will be occurring on the first day.
Selected Screenings:
(Note: not all of these works will be shown in their entirety or perhaps even at all. Additionally, only some will be shown in their printed format)
The Sounding Lines are Obsolete (John Price, 2009)
Two Years at Sea (Ben Rivers, 2011)
Various technical documentations
Further Readings & Online Resources:
Copies of these books & articles will be provided during the workshop and can also be secured at various local libraries and on the web:
Photographic Lab Handbook (John S. Carroll)
The Darkroom Cookbook (Steve G Anchell)
The Film Developing Cookbook (Steve G Anchell & Bill Troop)
Frequently Asked Questions:
Q: I've never worked with motion picture film before. Will that limit my experience?
A: No, but an elementary understanding of photography and/or cinematography will maximize your ability to learn during this workshop. We will also be touching on this briefly during the workshop.
Q: I have some film I would like to bring into the workshop to work with. Is this okay?
A: Yes, but there are a few things you must keep in mind: While you can bring film to work with, we will not begin processing film until the second day. Even then, there is no guarantee that we will be able to get around to processing your film. Additionally, if we do process your film, there is no guarantee in "success."
Q: I would like to travel to attend the workshop, but I'm not certain if I can afford housing accommodations. Do you provide scholarship?
A: Unfortunately, we do not offer scholarship, but we may be able to find accommodations pending volunteers. Additionally, you can also look into couch surfing.
Q: I missed the opportunity to attend this workshop. Will you be running it again?
A: If the demand exist, absolutely. Send us an email or message requesting it.
http://www.processreversal.org/wp-content/uploads/2013/04/ProcessReversal-2.jpg
3872
2592
Process Reversal
http://www.processreversal.org/wp-content/uploads/2016/10/black_tranparency_340_40boundry-300x300.png
Process Reversal
2013-07-12 17:50:15
2013-07-27 14:26:37
The Gurney-Mott Theory: An Introduction to Hand Processing Motion Picture Film