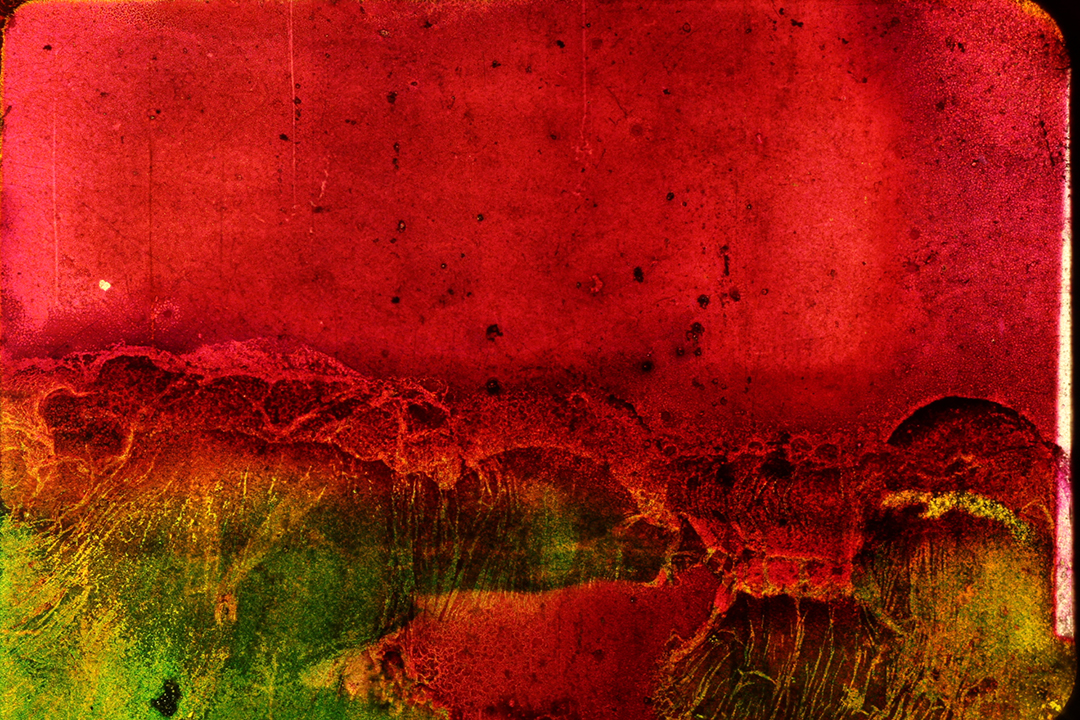 Abstract:
In this two day workshop, participants will be introduced to color printing on both the contact printer and optical printer so as to generate color positive prints from camera original color negatives. In addition to this, however, we will also explore some of the possible interventions in the color printing process to allow for the use of reduction and oxidation (redox) based processes typically reserved for black & white imagery. These include any argentic (silver) based process such as toning, mirroring and bleach etching techniques, the application of which has been scarcely explored in color up to this point.
Concepts that will be covered include:
Processing for camera original color negative stocks (e.g. Kodak 50D, 500T, Fuji stocks, etc)
Basic timing procedures (i.e. control of density and color balance in the striking of the print)
Processing for color print stocks (i.e. generation of a color positive from the color negative)
Conventional and alternative color processing for color print stocks
Attending the Workshop:
This workshop will be split into two days. The first day (Nov. 2nd, 11AM – 7 PM) will be dedicated to demonstrating the operation of the Model C contact printer to strike color positive, married prints followed by their processing in both traditional and alternative color chemistry. The second day (Nov. 3rd, 10AM – 11PM) will be an open work day whereby participants will be able operate the model C to print and process their own prints, explore experimental chemical processes, strike internegatives on the JK optical printer, etc.
If participants wish, they can provide their own color negatives for use in the workshop, but this is not required as found color negative will also be provided.
Frequently Asked Questions:
Q: I've never worked with motion picture film before. Will that limit my experience?
A: While previous experience with working with motion picture film is not required for attending this workshop, it is highly encouraged that one at least study basic black & white negative processing prior to the workshop. Regardless, we will do everything possible to clarify any questions that you may have before, during or after the workshop.
Q: I have some film I would like to bring into the workshop to work with. Is this okay?
A: Yes, in fact we encourage participants to bring some processed film for printing in the workshop. This can be either color or black and white, but it preferable it should be a negative.
Q: I would like to travel to attend the workshop, but I'm not certain if I can afford housing accommodations. Do you offer scholarship?
A: Unfortunately, we do not offer scholarship and because this workshop is taking place abroad, we do not have a pool of volunteers to draw from to help with accommodations. Our best suggestion would be to look into couch surfing.
Q: I missed the opportunity to attend this workshop. Will you be running it again?
A: If the demand exist, absolutely. Send us an email or message requesting it.
Workshop Resources:
The following selection of readings are suggested for those who would like to pursue the subject matter beyond that which we will be covering in the workshop. Copies of these books will be provided during the workshop and many can be acquired through local libraries:
Photographic Emulsion Chemistry (G.F. Duffin)
Making Kodak Film (Robert Shanebrook)
The Darkroom Cookbook (Steve G Anchell)