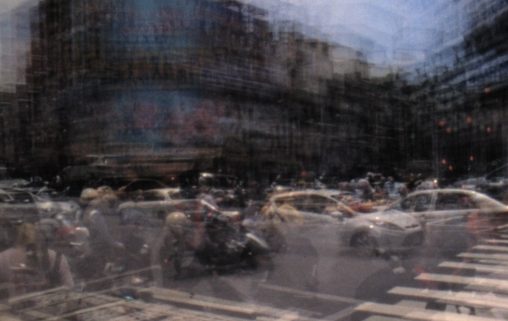 A selection of recent films from the artist run film lab in Melbourne, Australia. Featuring 16mm films by Zi-Yun Lam, Hanna Chetwin, Lucas Haynes, Callum Ross-Thomson, Richard Tuohy, Madeleine Martiniello, Sabina Maselli, Dianna Barrie, Paddy Hay and Louis Marlo.
Presented by visiting lab-member Giles Fielke with additional historical program "Golden Eighties: Experimentalism in Australia"
Artist Film Workshop (AFW) is an artist collective and not-for-profit organisation located in Melbourne, Australia, which provides access to knowledge and resources for filmmakers and artists. AFW holds regular screenings and workshops for people interested in film or working with sound and vision.
Screens on 16mm. $5 suggested donation.
Program 1: Our Lab, Our Labour
Tiangong-1 (2018) Paddy Hay and Louis Marlo. 16mm (from Super 8), colour, optical sound, 8 min
Paddy Hay is a filmmaker working between narrative and experimental modes of cinema. He is a member of the Artist Film Workshop (AFW) lab in Melbourne, as well as the Melbourne based film collective, Dogmilk. Paddy's films have been presented at major domestic and international film institutions, including the Austrian Film Museum in Vienna, and the Australian Centre for the Moving Image (ACMI). In 2018, Paddy completed his Honours in Fine Art at RMIT University, where he was awarded a Travelling Scholarship prize for his graduate film installation. His debut narrative short 'Cuckoo Roller' had its World Premiere at the 2019 Melbourne International Film Festival. He is an alumnus of the MIFF Accelerator Lab. Louis Marlo is a musician, composer and experimental sound practitioner from Melbourne. He completed his degree in Fine Art (Sound) at RMIT University in 2016. Louis runs an independent label, Felt Sense Recordings, which focuses on locally produced electronic music and sound. Additionally, Louis works as a member of the sound department at the Melbourne Theatre Compay (MTC).
Vyv and Beat (2018) Audrey Lam. 16mm, black and white and colour, separate sound, 3 mins
By her feeding twins, autumn outside sings. Audrey Lam studied screen production and photography at Queensland College of Art. Her work has screened at film festivals including BFI London Film Festival, International Film Festival Rotterdam, Internationale Kurzfilmtage Oberhausen and Visions du Réel, and arts festivals including Otherfilm and Yebisu Festival of Alternative Art and Visions. In 2015, she undertook anAsialink arts residency at Green Papaya Art Projects in Manila. She is a member of Artist Film Workshop in Melbourne and a Meat Market Studio Program resident.
Soda (2017) Hanna Chetwin. 16mm, black and white, optical sound, 7 mins
Soda explores the forms and rhythms of bubbles. the film uses camera-less techniques (including scratching and rayogramming) intercut with footage of water in progressive stages of boiling. Accompanied by a soundtrack by Rohan Drape. Hanna Chetwin is an Australian filmmaker working primarily in experimental film. Her practice draws on photographic, camera-less imaging techniques alongside filmed footage of everyday and environmental minutiae to create rhythmic structural film works, often developed in collaboration with Australian exploratory musicians (recently including Rohan Drape, Francis Plagne, and James Rushford).
Shoplifting (2017) Lucas Haynes. 16mm, colour, silent, 4 mins
Take what you want. 'Interact' with this film and transform the negative image into positive by viewing through your phone: settings: accessibility: invert colours. Lucas Haynes is an artist filmmaker.
Pharmacy (2019) Giles Fielke. 16mm, colour, 10 mins (spoken word score)
Supplied text to be read by the director of the institution or cinema where the screening is taking place, or by the person presenting a screening of this film. Giles is a writer and filmmaker, he will be present to screen the program.
Internal and External Objects (2017) Giles Fielke. 16mm, black and white, separate sound, 7 mins
Leo's hand rayogrammed on my laptop, perusing Kracauer. Maddy reads Transparencies on Film and listens to Michael Jackson while I hovered threateningly somewhere in the background. Giles again.
Fade (2018) Callum Ross-Thomson. 16mm (from Super 8), colour, optical sound, 6 mins
Found footage taken from a long forgotten, badly scratched and faded 16mm educational film print on volcanoes, superimposed atop recently shot 16mm macro footage of a human skull. The skull is a similarly neglected teaching aid, once used for anatomy classes many decades ago before the use of real human remains in schools became less common in favour of more durable, socially sustainable plastic models. Callum runs Memory Lab, a full-service telecine in Melbourne, Australia.
Landing (2018) Sabina Maselli. 16mm, colour, optical sound, 8 mins
Hand-processed, colour-reversed 16mm film spun around a soundtrack built from a re-modulated, repeating fragment of a woman's voice creates a ritualistic merging of woman, space and time. Sabina is an artist and filmmaker who makes multilayered works that are presented as films, installations and live performances. She uses both analogue and digital processing, through a very physical engagement with her materials. She sees her works as sites for transformation between body, memory and technology, and how they manifest in the physical, material, mystical, and mythological realms.
Tomato Day (2017) Madeleine Martiniello, 16mm, colour, separate sound, 6 mins
a short study of the tension between nostalgia and the filmic image, using the home movie as a means of exploring family, history and cultural knowledge. the images of many hands at work are accompanied by a soundtrack assembled from the hand-developing process of the film, and a instructional conversation between granddaughter and grandmother. Tomato Day is a translation from one generation to the next, in an attempt to learn, to record and to remember. Madeleine is a filmmaker based in Melbourne, Australia. She is a graduate from the Master of Film & Television (Documentary), Victorian College of the Arts.
China Not China (2018) Richard Tuohy and Dianna Barrie, 16mm, colour, separate sound, 14mins
Hong Kong marked 20 years since its hand over to China; half way through the planned 40 year "one country, two systems" transition. Taiwan, once imperial China, once Formosa, now ROC (Republic of China) on the edge of the PRC (People's Republic of China). Multiple exposures of street scenes distort space and place creating a fluid sense of impermanence and transition, of two states somewhere between China and not China. Richard Tuohy and Dianna Barrie are the most active experimental film artists currently working on celluloid in Australia.
Program 2: Golden Eighties: Experimentalism in Australia
One View (1985) Chris Knowles and Maggie Fooke. 16mm, colour, sound, 13mins
One view explores the common assumption that the Australian landscape is featureless and unchanging, and looks at the deeper question of what might be meant by an unchanging landscape. – Maggie Fooke
Myself at Fourteen (1989) Ivor Cantrill. 16mm, colour, sound, 19mins
An intensely colourful, rotoscoped animation based on black and white footag of Ivor Cantrill made when he was 14-years-old.
4 Tone (1985) Dirk de Bruyn. 16mm, colour, silent, 9mins
An diaristic animation of drawn, rotoscoped and 'letraset' images printed on 7390 print stock film. Made in Rotterdam, de Bruyn also used a time-lapse mechanism that incorporated a motor from the windscreen wipers of a car. The film shares some of its parts with de Bruyn's feature-length film Homecomings (1987).
This Woman Is Not a Car (1982) Margaret Dodd. VHS (from 16mm), colour, sound, 22mins
A response to the bleak suburban life for women Dodd found, living in Holden Hill, Adelaide on her return from the US to Australia. The Experimental Art Foundation, Jam Factory and Women's Art Movement of 1970s Adelaide were all influential in supporting and shaping her art practice. Dodd continues to explore the symbol of the Holden car to look at national identity, masculinity and female identity, and the politics of the survival of the planet.