When:
September 4, 2013 @ 2:00 am – 3:30 am
2013-09-04T02:00:00+00:00
2013-09-04T03:30:00+00:00
Where:
CineCycle
129 Spadina Avenue
Toronto, ON M5V 2L3
Canada

Contact:
Martin Heath
416-971-4273
Edition I – Process Reversal:
A short program of 16mm film works from the Process Reversal Collective and other artist-run film groups including l'Abominable (Paris, France), The Double Negative Collective (Montreal, PQ), The Handmade Film Institute (Boulder, CO) and LIFT (Toronto, ON). Filmmakers including Sarah Biagini, Andrew Busti, Taylor Dunne, Nicolas Rey, Kevin Rice, Robert Schaller, Philipe Leonard & Chris Gehman.
Program Details:
Panorama Point – Taylor Dunne (Process Reversal)
[2.5 minutes, 1.33:1, silent, Tungsten]
"Using a variety of means-scale, a use of seriality or theatrical modes of presentation-American landscape painters in the nineteenth century absorbed the challenges to framing and spectatorship exemplified by the various forms of panorama entertainments.  We see in these landscapes the mastery of framing contending with an energy striving to burst them asunder in pursuit of a new relation to the spectator. "
Tom Gunning from Landscape and the Fantasy of Moving Pictures: Early Cinema's Phantom Rides
Sucia – Robert Schaller (The Handmade Film Institute)
[5 minutes, 1.33:1, silent, B&W]
"(mostly) shot with my handmade pinhole camera, hand-processed 7363, and part of it (the part shot in a Bolex) manipulated using a homemade self-programmed machine…"
I Swim Now –  Sarah Biagini (Process Reversal)

[16mm, 8.5 minutes, 1.33:1, optical sound, B&W]
I Swim Now challenges the visual intelligibility of landscape aesthetics by imagining the experiences of one Violet Jessop, a stewardess on board all three sister ships of the White Star Line – the Olympic, the Titanic, and the Britannic – while each suffered varying degrees of collision and wreckage at sea. I Swim Now evokes the intense brutality and repetition of Violet's unique physical interactions with nature through an expansive accumulation of optical techniques and manipulations.
Terminus for You – Nicolas Rey (l'Abominable)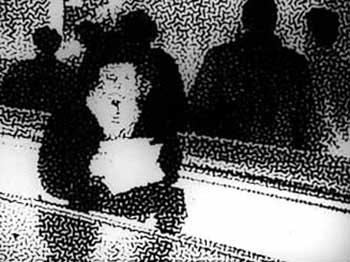 [16mm, 10 minutes, 1.33:1, optical sound, B&W]
"Terminus for you, by Nicolas Rey, takes us on a strange journey. That of passengers in the Paris metro, moving from one platform to another, from one line to another and from one destination to the next. What do we actually see? Geometric shapes come and go. The faces of people come into view and then flit away. Glimpses of words, titles torn from posters, are interspersed between these fleeting encounters; love, solitude, couples, etc… In this short visual essay on the borderline between the documentary and the avant-garde film, Nicolas Rey freely combines painting, photography and cinema and reveals a passion for reality and a love of humanity."
Bertrand Bacqué – Visions du Réel (Nyon) Catalog 1997
At Hand – Andrew Busti (Process Reversal)
[16mm, 9 minutes, 1.33:1, optical sound, B&W]
(No Description Available)
Cornmother – Taylor Dunne (Process Reversal)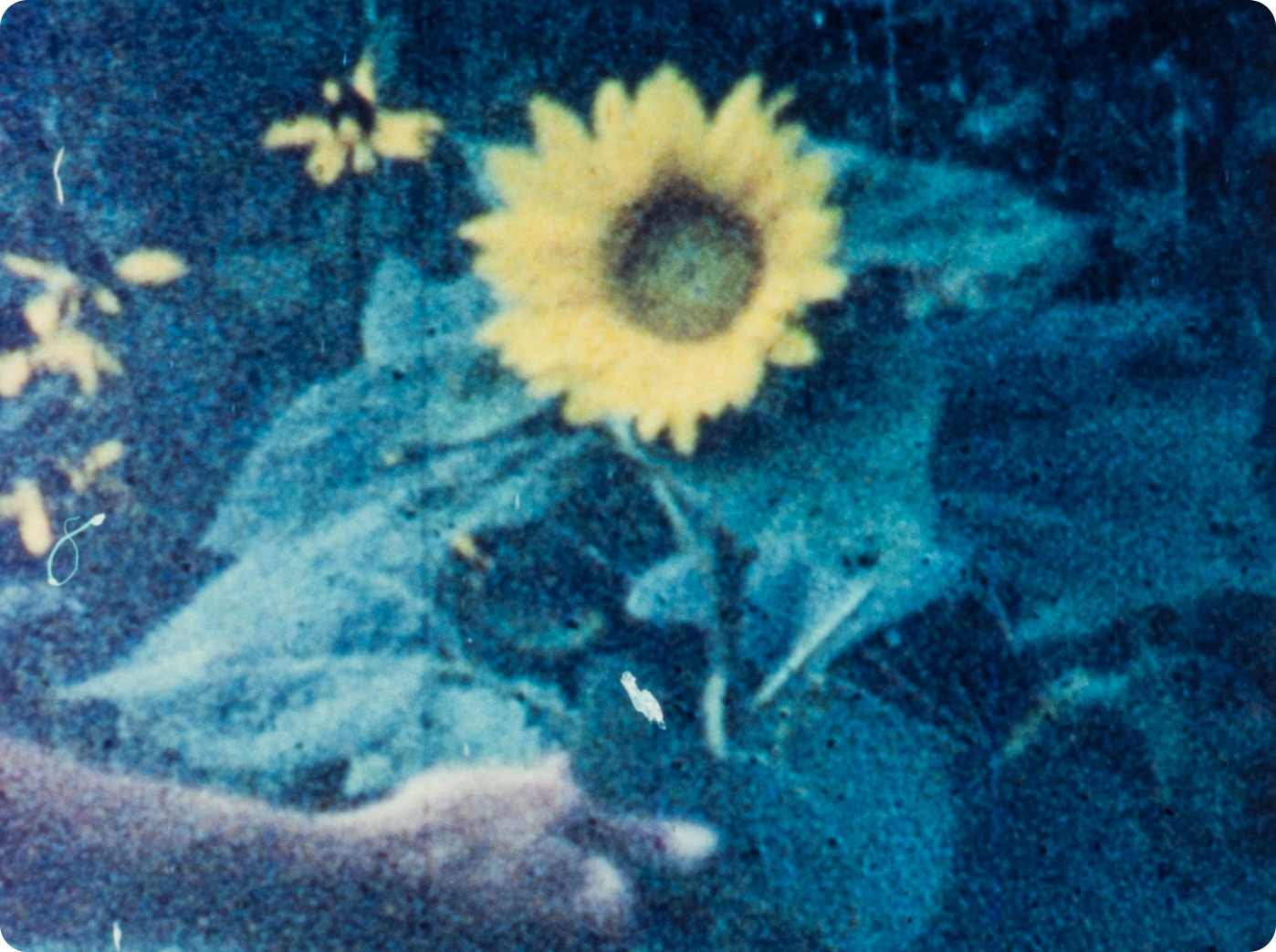 [6 minutes, 1.33:1, silent, Tungsten]
A single cartridge of Super 8 captures my mothers last visit to her garden. Her body is seen slowly dissolving towards illumination, while her image is forever immortalized in light and silver. Poem borrowed from the Wabanaki creation myth of the first woman, The Corn and Tobacco Mother.
Rostrum Press: Materials Testing – Chris Gehman
[3 minutes, 1.33:1, silent, Xenon]
"In Rostrum Press: Materials Testing, I used the Oxberry 16mm animation stand as a mechanism to test the response of a variety of objects and materials to the downward pressure of the camera…each shot in "Rostrum Press" is essentially a self-contained little film in which the camera moves inexorably closer to its object, one-eighth of an inch closer between each frame and the next, until contact is made and the object is pressed down towards the rostrum table as nearly flat as possible."
Perceptual Subjectivity – Philippe Leonard (Double Negative Collective)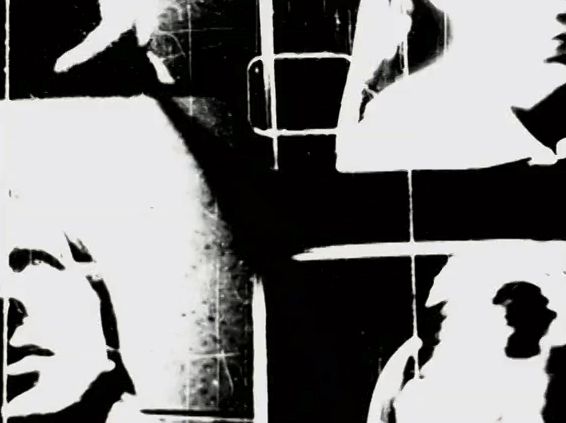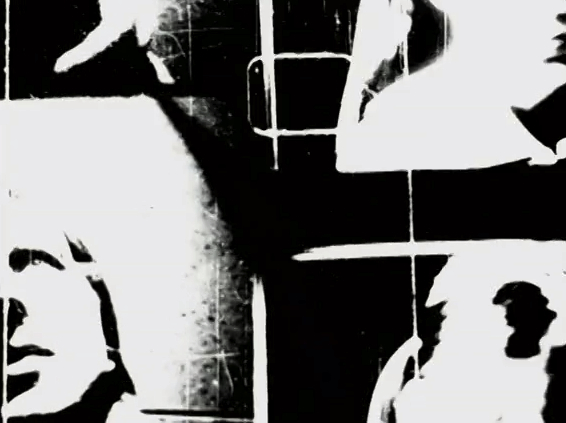 [6 minutes, 1.33:1, optical sound, B&W]
Ideas take shape in a kind of cerebral magma where the referents are assigned to parcels of experience from which intelligible elements are formed. Perceptual Subjectivity is an essay on the structural formation of thoughts.
http://www.processreversal.org/wp-content/uploads/2016/10/black_tranparency_340_40boundry-300x300.png
0
0
Process Reversal
http://www.processreversal.org/wp-content/uploads/2016/10/black_tranparency_340_40boundry-300x300.png
Process Reversal
2013-08-23 14:03:32
2014-04-28 10:23:51
Frenkel Defects, Edition I (CineCycle, Toronto)